Today, there is a sea of content online, thousands of articles, blog posts, How-To guides, and videos. With businesses offering similar services and products, how do you stand out from the crowd? Or get more traffic to your site and be a part of the competition?The answer lies in search engine optimization, and the first step in this strategy is comprehensive keyword analysis, or keyword research – which helps websites rank in the search results, get more traffic, and appear in front of the right audience.
In this post, we will go over what keyword research entails, why it is important, and how it works step by step.
What is keyword research?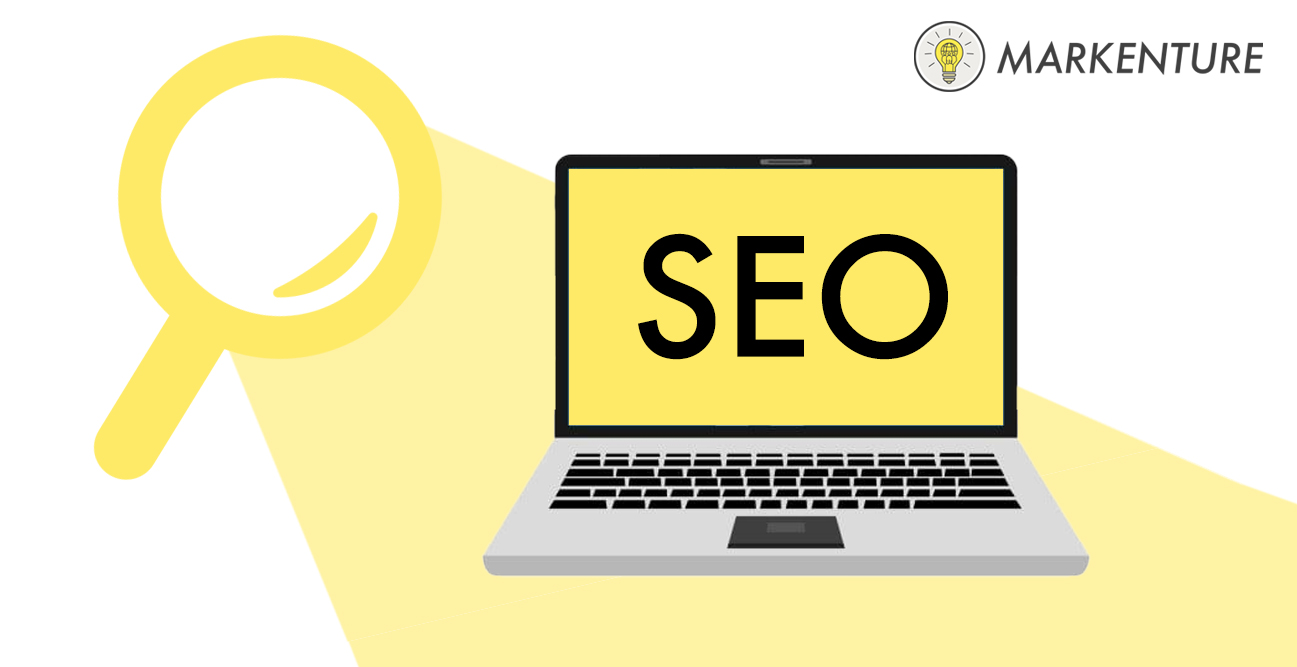 Keyword research is the process of finding specific keywords and search phrases, related to your business, that can drive traffic to your website and get it ranked in search engines. This is an important part of creating a strong and profitable search engine optimization strategy.
In this guide, we will talk about both keywords and search phrases. To clarify, a keyword is a word, such as web optimization. Whilst a search phrase is longer, e.g. what does web optimization mean.
Why is keyword research important?
(Source)
It can feel tempting to get started with your website without implementing an SEO strategy. But, we can put it this way: the competition in the digital landscape is greater than ever and without the use of relevant keywords on your website, your customers will not be able to find you. And what good is a website if it simply "blends in" with everything else out there?
Below you can find the benefits of performing keyword research:
1. Web Optimization & Traffic
Keywords help search engine algorithms understand the content of your website so that it in turn appears for relevant searches. Search engines rate a web page for relevant and helpful content and then reward it by giving the page a higher ranking in search results. Implementing and performing keyword research is therefore important for your website to be visible and drive traffic.
2. Find valuable keywords
By conducting keyword research, you can identify which words you should invest in. In other words, some keywords are more popular than others, and with this type of research, you can look at Search Volume and SEO Difficulty, which indicates how many searches a word gets on average per month and how difficult it is to rank for that word.
3. Source of inspiration
Keyword research also helps to generate content ideas that you might not have thought of otherwise, such as new topics you can write articles about and in what way you should angle the content. That is if you are going to invest in an interview article, how-to guide, Q&A, facts-based, etc.
Creating an SEO strategy and performing keyword research can feel challenging if you do not know how to do it, where to start, or are short on time and resources. But there is a solution to everything, and below we will tell you how such an analysis is done, step by step so that you can easily follow it from beginning to end.
How to research keywords for SEO
Step 1: Find keyword ideas
Before you can start analyzing and selecting your keywords, you must of course know which words you want to appear for. You can start by writing down a list of keywords so that you have a foundation to stand on. Have a brainstorming session and scribble down anything you can think of that is relevant to your business. Think about what your customers are looking for. Once you have your list of ideas, you will want to do some detective work and see if your list of words in fact is relevant, but also to find more useful keywords. Start by:
Spying on your competitors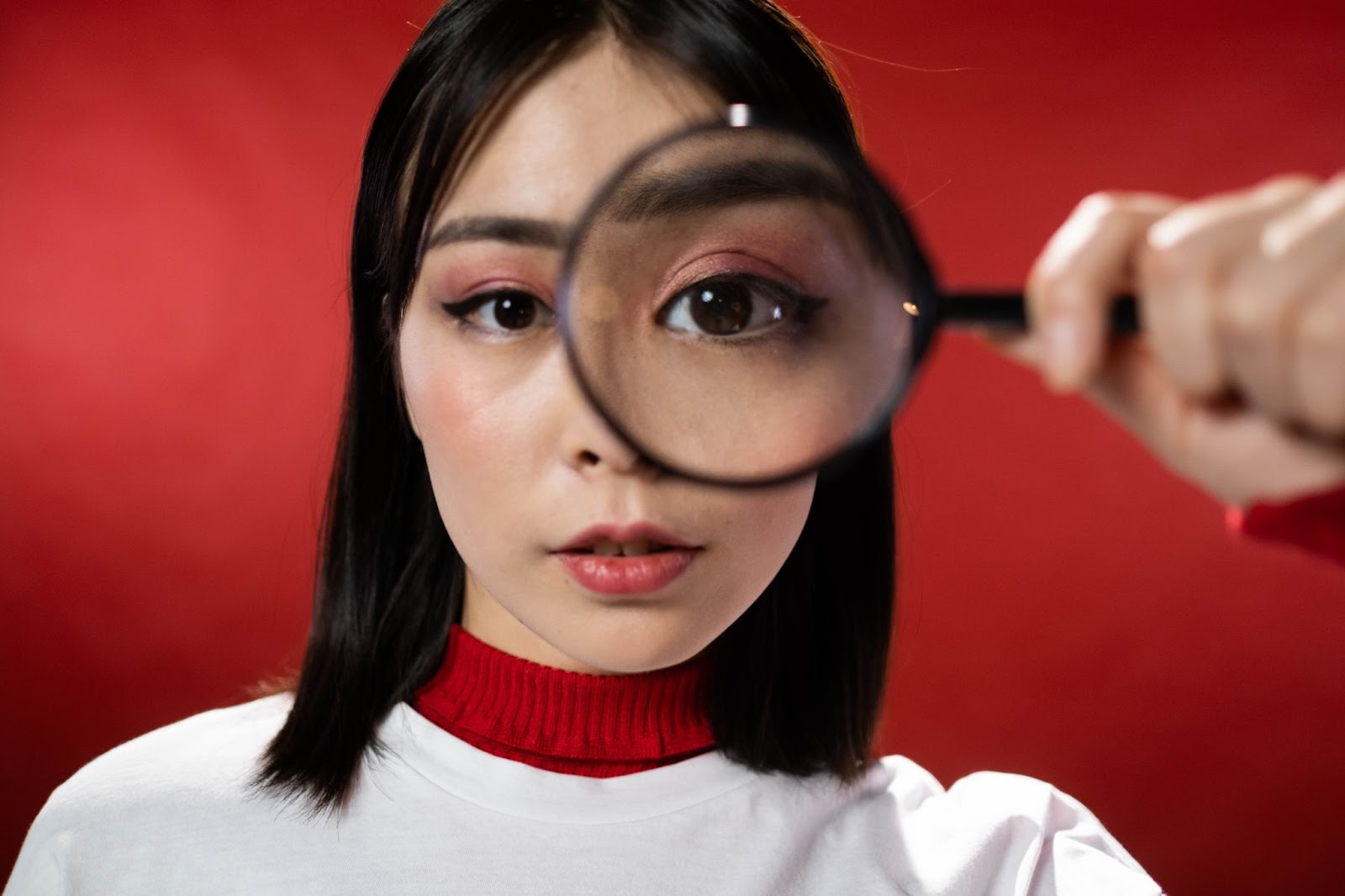 Start with your own competitors. Take a look at their websites and go on a keyword hunt. Focus on companies that sell the same services/products as you and that appear on the first two pages of search engine results.
That way, you keep track of your top competitors and see which words they have "decided" are relevant to your target audience. Here it is important to look at how they use their keywords, and by that, we mean this:
If your company has a service where you install sound systems in villas, you should look at competitors who sell similar services.
Go to their website and navigate to the landing page about this particular service. Look at what keywords are used there, what keywords have the competitor determined are relevant for audio installations? And how are they used?
This analysis is, among other things, about relevance and search intention.
Relevance means that the keywords you use on a specific landing page must match what the page is actually about. For example, a page that deals with audio installations should not have keywords that are relevant to a TV satellite installation, even if it is an additional service your company offers. Two separate landing pages are required so that customers who search for these services land on the right, corresponding page.
Search intention is about the intention/intention of a search. This is important to keep in mind in order to understand how to use your keywords and the content of your web page. If we go back to the example with audio installations, it might look like this:
Someone who is for how to do a sound installation is looking for information on what an audio installation entails and how it works, perhaps a step-by-step guide like this article.
While, sound installations in Stockholm – is someone who wants to find a local company that offers services in sound installation.
This is good to keep in mind when creating content and landing pages because consumers have expectations of the page they land on when conducting a search.
Pro tip
: Make each landing page on your website as relevant as possible in order to create a smooth and helpful experience for the customer. If, for example, the customer who was looking to hire a sound installation expert in Stockholm ends up on a page with an in-depth guide on how sound installations work, the customer will feel lost since that was not their intention with the search. They want to hire someone to install the audio system, not do it themselves. This means the landing page in question should be optimized as a service page, containing relevant keywords.
Blogs
Another way to find relevant keywords is by reading popular blogs in your industry. It provides inspiration for new topics to talk about on your own website, while you can find new keywords to use.
Keyword research tools
There are also tools you can use to generate ideas for potential keywords, such as Answer the public.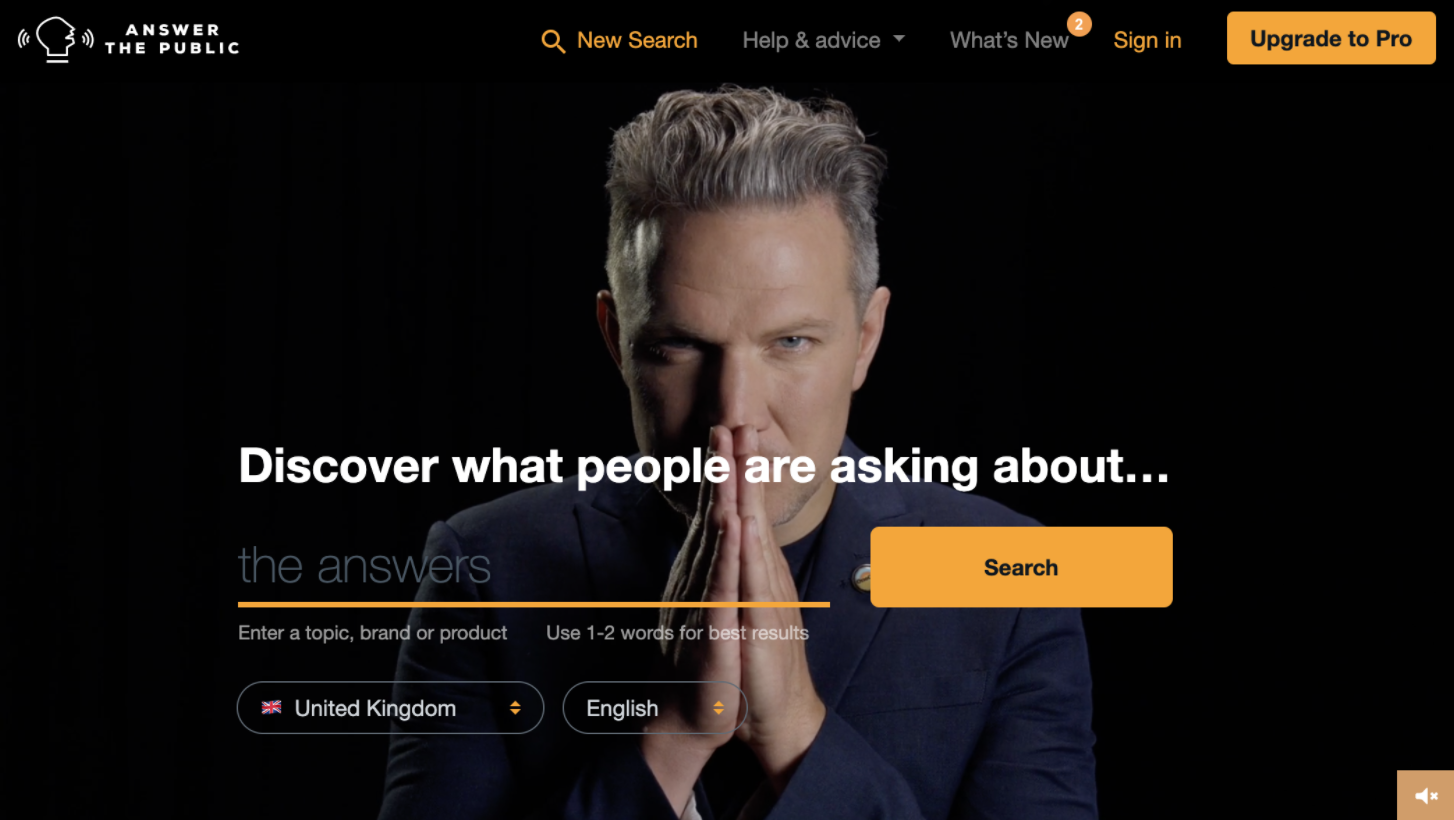 (Source)
This site uses data from search engines to compile and track phrases and questions that people ask on the internet. If you enter words within your niche, you can see what people are looking for and wondering about your type of business, and thus, find valuable keywords.
Answer the public is good for getting suggestions for different keywords, as they divide keywords into variants such as questions, prepositions, and comparisons for longer search phrases.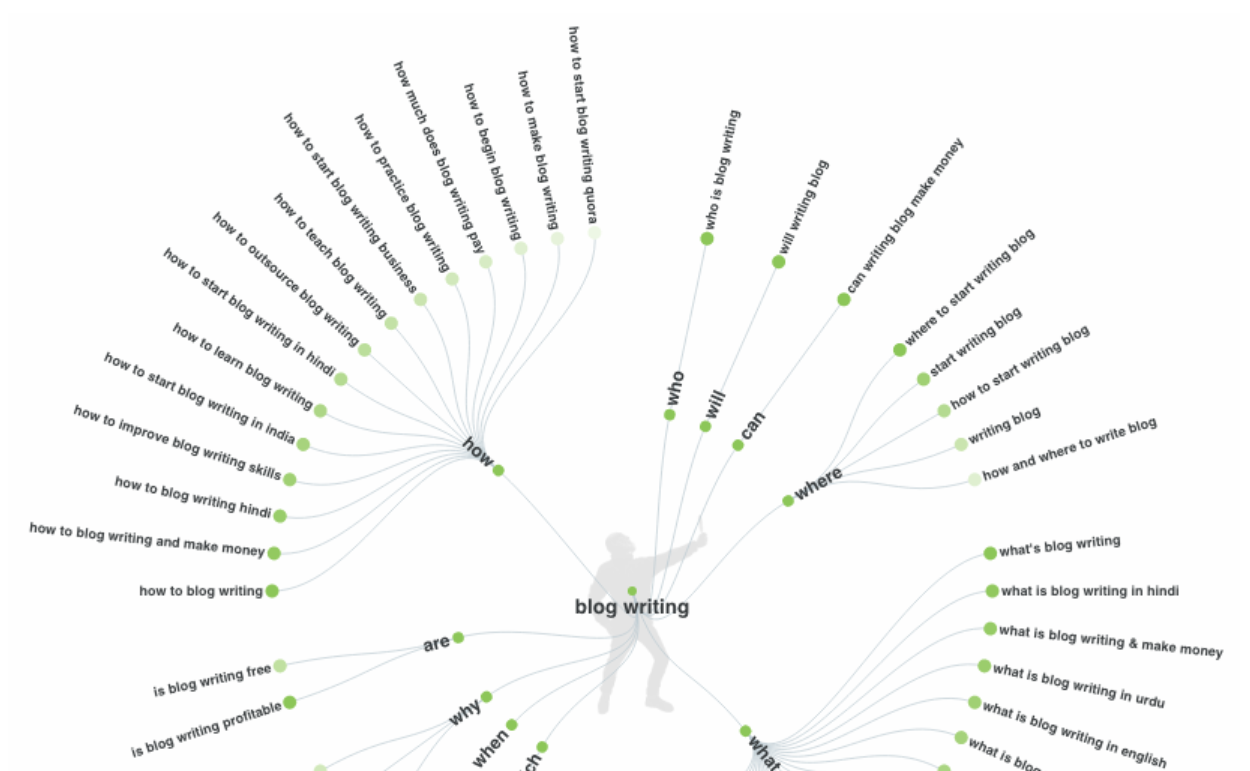 (Source)
Questions – "what" "when" "can" before the keyword
Prepositions – "for" "is" "close" "with" before the keyword
Comparisons – "and" "vs" "or" before the keyword
Alphabetical – the keyword is organized into lists for each letter of the alphabet 5. Related –

Related – 
There are many different types of keyword tools to choose from, and many offer a more in-depth analysis such as Keyword Planner, SemRush Keyword Magic Tool, and Ubersuggest. In addition to giving you suggestions, they are also useful for finding related keywords, which you might not have thought of otherwise.
You can also find related keywords without tools and go directly to Related Searches, which can be found at the bottom of a search results page.

Another way is to use the search box in a search engine by entering a relevant keyword and seeing what follows in the search suggestions.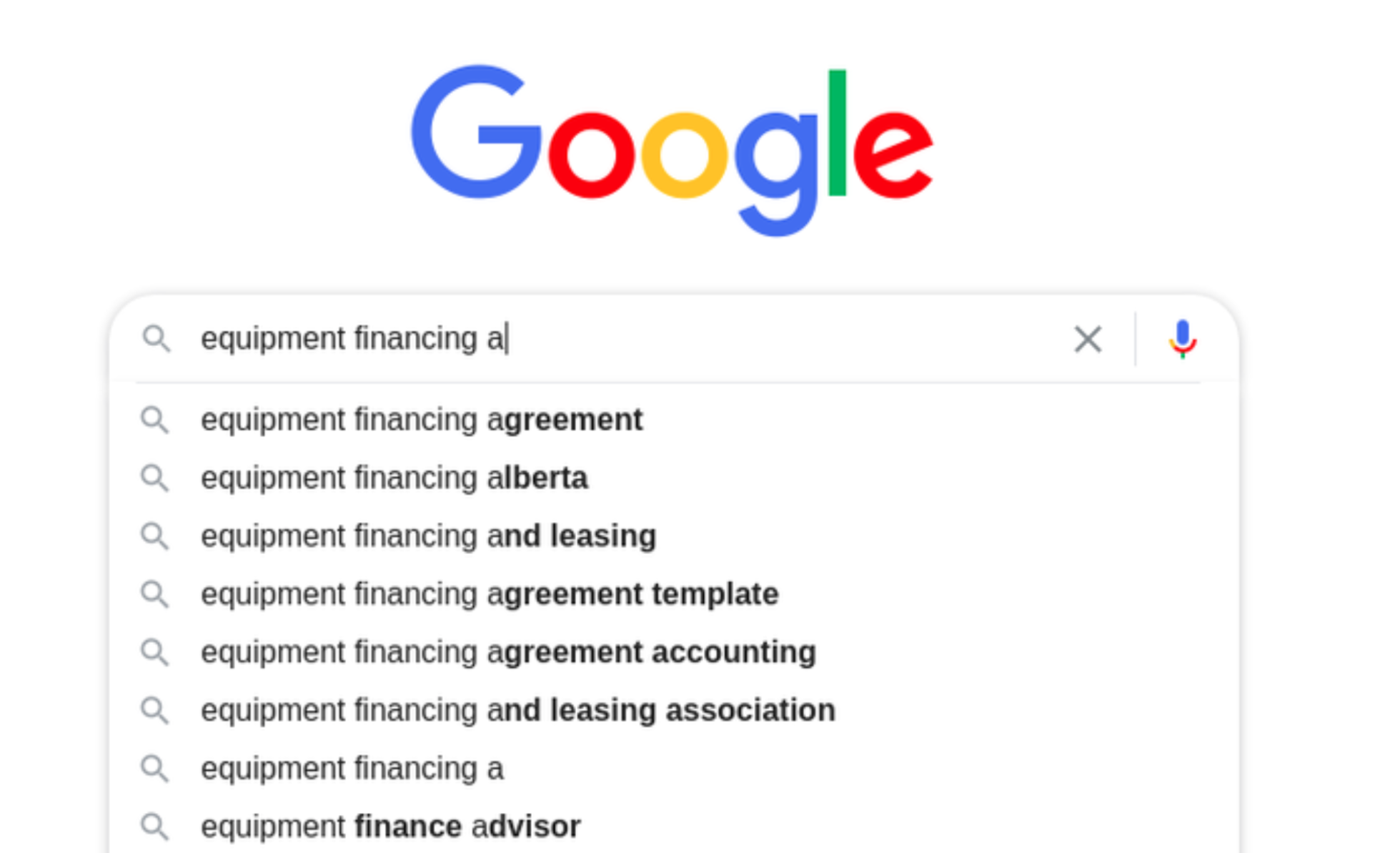 This way, you can see popular searches that involve a specific word.
Your customers
Your own target audience of potential consumers is a good starting point for finding keywords because they are the ones you are trying to reach with your digital content. Think about what the search process looks like from their perspective. Go through social platforms and forums where your customers spend their time and see what they write or ask about regarding your type of business and services.

Step 2: Analyzing keywords
Once you have an idea of which keywords you want to be seen for, the next step is to choose a keyword tool that can help you both find more keywords and decide which ones are worth investing in.
A keyword tool tracks and analyzes words and phrases people search for online. Through different metrics, you can get pinpoint which keywords perform well. We will go through the metrics you should keep track of and what each indicates.
There are many tools to choose from, some are free and others offer a free trial before you have to pay for the service. Try it out for yourself and see which one is right for you. Below you will find some suggestions that we think are really good.
This is a helpful tool for finding new keywords and for creating search ads like google ads. With the keyword planner, you get suggestions for keywords and related keywords, which can help you reach out to people who are interested in your type of service/product.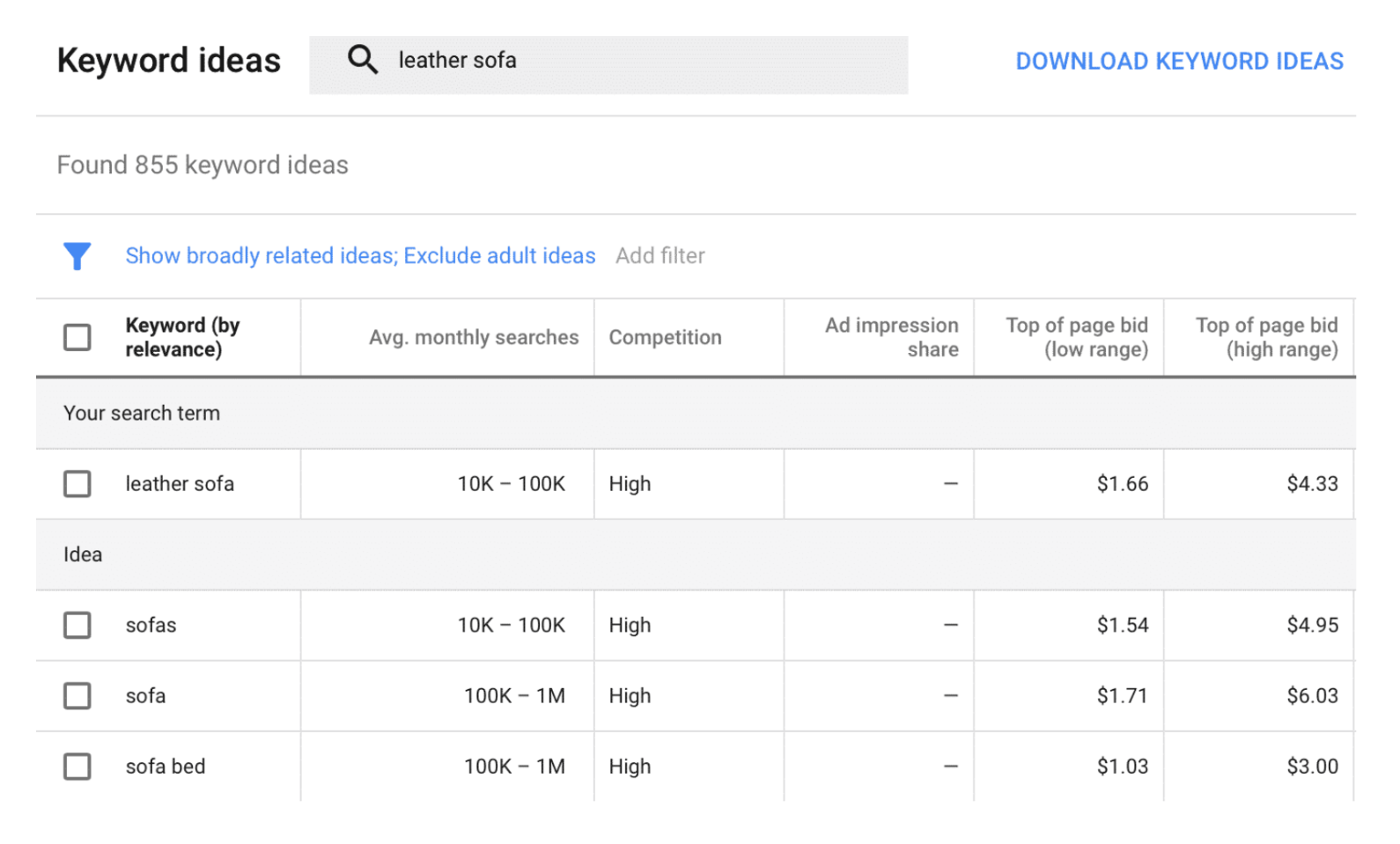 With a forecast function, you can also see different metrics that measure: search volume per month, evaluation of the search volume per 3 months to 1 year, competition, and bid amount for e.g. google ads.
More on this in step 3.

Just like keyword planner, Ubersuggest generates ideas for new words and displays different metrics. But, in addition to giving you suggestions, it also shows different types of keyword suggestions such as related words, questions, prepositions, and comparisons.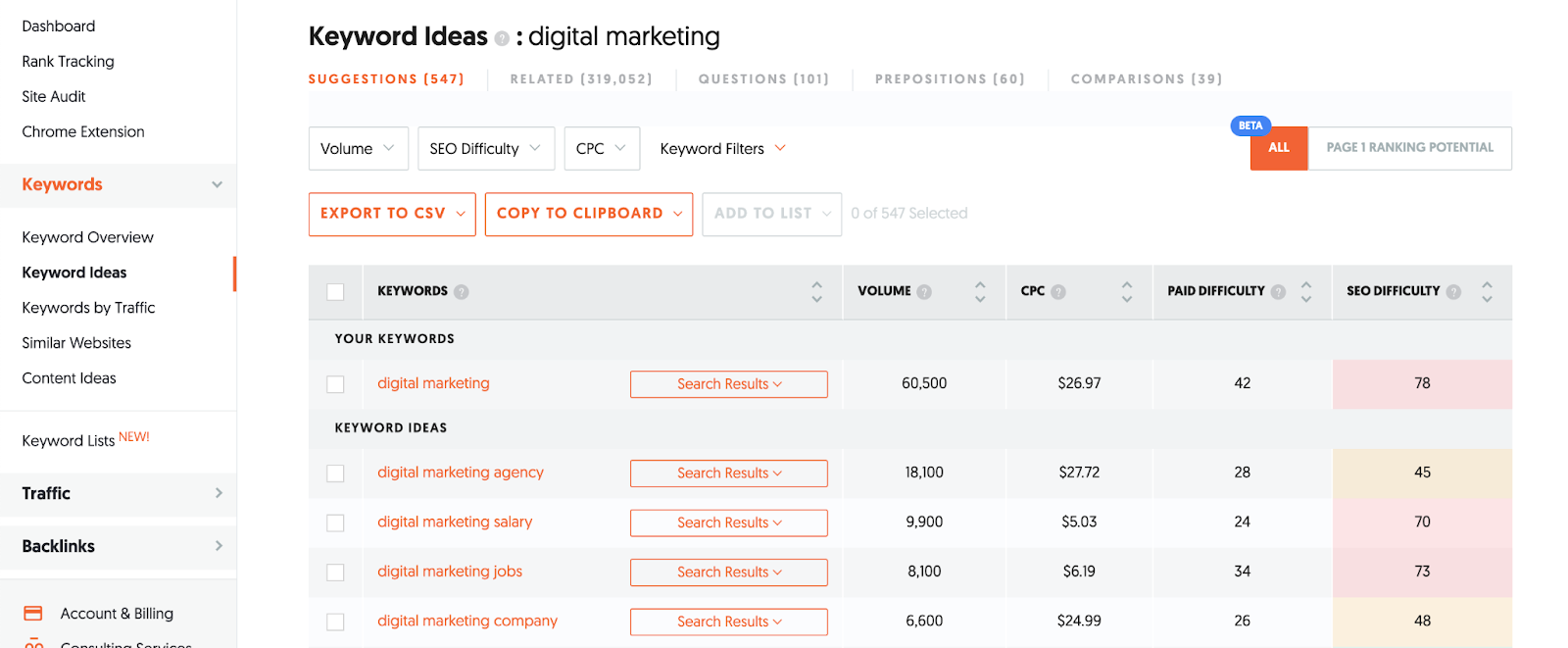 Similarly to Answer The Public, one can jump between the variations to find suggestions for a keyword or longer phrases that include a specific word. This feature is great for finding so-called long-tail keywords. 
Short-tail: 1-2 words.
Long-tail: 3-4 words.
Short-tail is broader keywords, such as mobile case. They usually have more competition and thus are more difficult to rank for. But that does not mean you should not invest in them.
Long-tail is more specific phrases, such as mobile covers for iPhone 13. They have lower competition and give you a greater chance of ranking on google.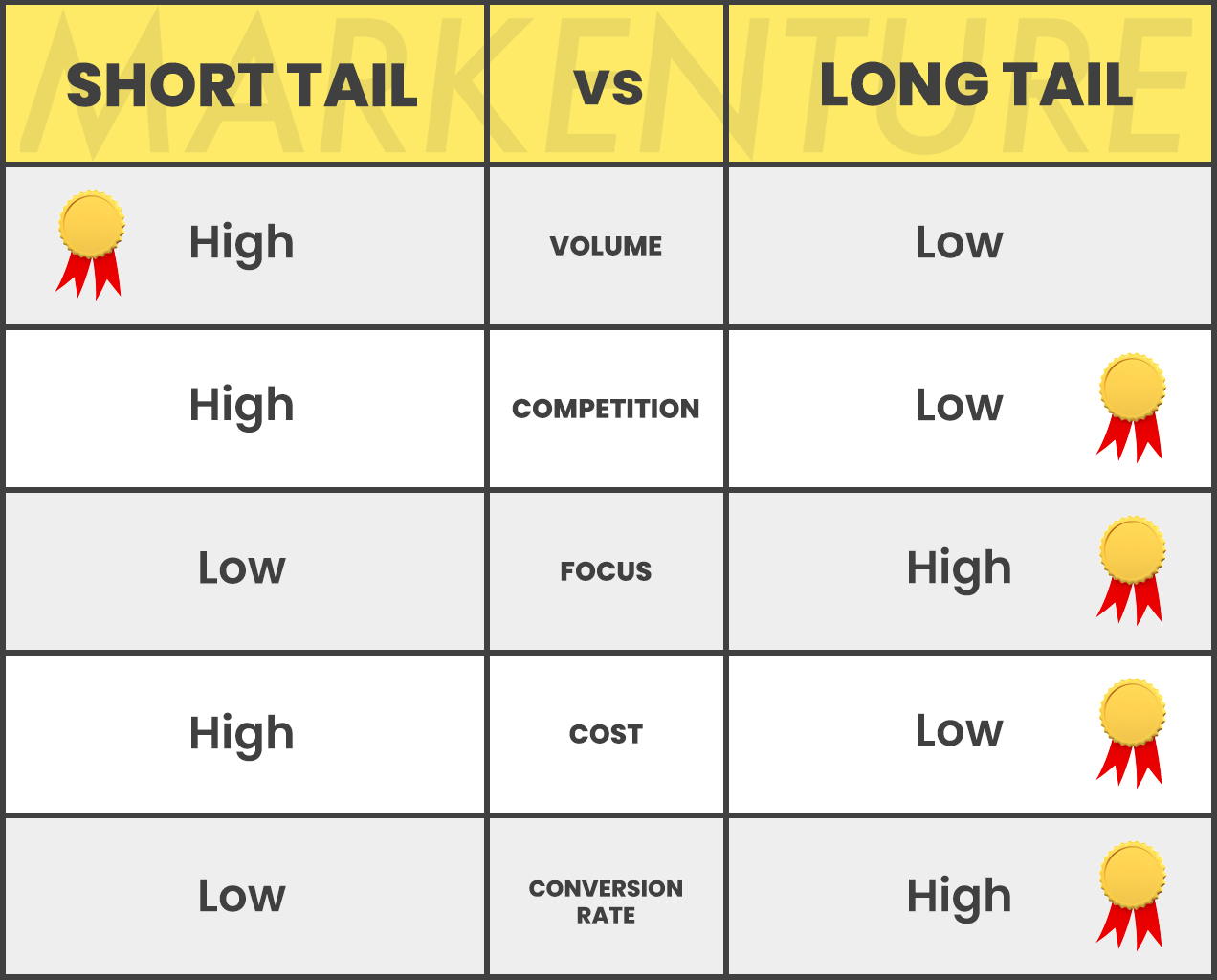 Depending on how much effort is put into a website, as well as how established a business is, it can be a good idea to mix short and long-tail keywords.
Since long-tail has lower competition, it can thus serve as a short-term goal where you can rank faster for certain keywords and phrases, which can improve your site's visibility and possibly traffic. While short-tail can serve as a long-term goal, where you can start ranking for those words a little further ahead.

This tool has a wide database of keywords and is very easy to use. Here, too, you can explore keyword types or modifications.
You can also filter the results to "questions" to see the keywords in a question format. For example, if the keyword is relining, the question could be What does relining cost?
Keywords in the form of questions are good for generating ideas for helpful content to place on your website. You can write longer articles, how-to posts, or shorter posts that directly answer consumers' questions and thus publish new content with more keywords to rank for, and create authority in your industry. Remember, you want to be the obvious source of information within your industry. High-quality content that is relevant and helpful will be rewarded by search engines.
In the overview on Semrush, you can also see something called search intent, which indicates the purpose of a search, which we mentioned earlier in the article.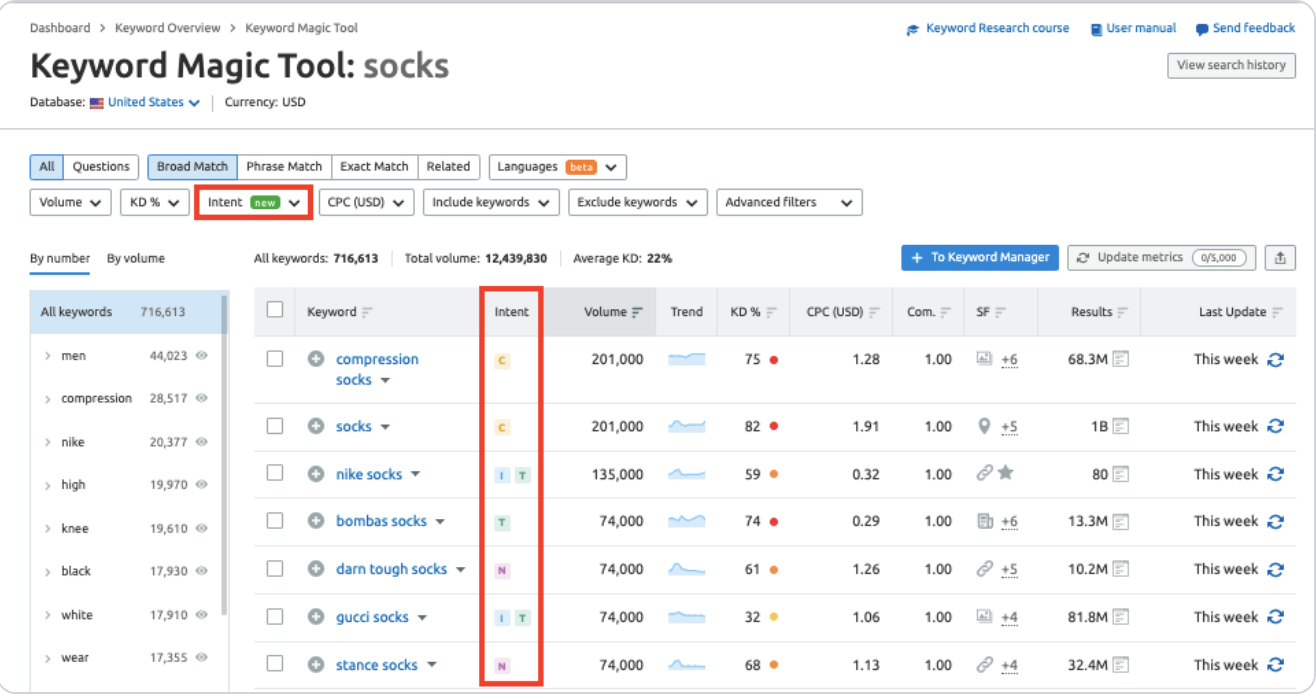 Below are the four different search intentions:
(I) Informational: someone who is looking for an answer to a question or general information. For example. How to clean drains?
(N) Navigational: someone who searches for a specific web page. For example. Nike shoes.
(C) Commercial: someone who wants to explore and compare different products, services, or brands. This type of search also indicates that the person is considering performing some type of action or purchase. For example, Best car hire Stockholm.
(T) Transactional: someone who wants to perform an act like buying something. For example, Buy phone.
Not all keyword tools show the search intent in the overview, so you have to analyze for yourself which can be a challenge but important to keep track of. The search engine algorithms do not only search for specific and relevant keywords but also in the way they are used so that people who search online get results that directly match their intention with a search. This is why you should keep the intention in mind when using your keywords.
Step 3: What metrics to track
Once you have selected a tool and started brainstorming ideas into relevant keywords, it's time to start analyzing their value. Before you can choose which keywords you want to invest in, you need to dig a little deeper to see if the word is worth spending time and maybe even money on. These metrics below are important to keep track of, and we will tell you exactly what they indicate.
Search volume
Shows how many searches a specific word receives on average each month. Quite simply, how popular the word is.
SEO difficulty
This goes hand-in-hand with search volume as it shows how difficult or easy it is to rank for a specific keyword or phrase. It uses a scale from 0-100 like this:

If you have a new website or a site you have not spent much time on, you should not try to rank for keywords with high SEO difficulty, because you will not see results. We recommend keywords that are no higher than 35 until you start ranking and get more traffic.
CPC
Shows how much your competitors are paying to use a specific keyword in their google ads. The higher the CPC, the more valuable a keyword is from a commercial perspective.
We can compare two search phrases as an example:
What is tailoring? vs Tailoring cost
Here, we are revisiting the search intention. The person searching for what is SEO optimization is looking for information, while the person searching for SEO optimization cost, is looking to buy a service.

vs

From the pictures, we can clearly see that the CPC is higher for the search phrase SEO optimization cost, and thus that phrase has more commercial value.
By analyzing these metrics, you can determine which keywords and phrases are worthwhile to invest in for your particular business, based on how your website is already performing.
Pro tip:
Ideally, you should use keywords with high search volume and low SEO difficulty. 

Step 4: Target keywords
Once you have decided which keywords are worth investing in, you should make a keyword list. Develop the categories within your business, these can be your different services or products, and then make a list of keywords for each category.
Here is an example of a website for a marketing agency:


Step 5: Use keywords: optimize your website
Now you can clearly map out how you should use your keywords and where your keywords should be placed on your website so that it matches your customers' search intent as closely as possible.
Such a process can look like this:
Evaluate the website and map out the keywords
Start by going through your website and checking what keywords you are already using on your various landing pages. Do they really fit in there? Are they relevant?
In order to best perform keyword optimization, we need to perform keyword mapping. We can do this by analyzing one page at a time and assigning each page with the most relevant keywords and phrases. Remember to keep the search intention in mind.
We can use the marketing agency website as an example:
If you have a page about SEO Optimization services, you should use words like SEO optimization, SEO marketing, SEO tool, etc.
To clarify Intention once again, for a service page you will want to use a phrase such as SEO specialist Not, for example, SEO best practices. That phrase can instead be placed in a blog post on your website. And why is that?
Because, someone searching for SEO specialist is looking for a service or an expert to help them, whilst someone searching for SEO best practices is looking for information and tips on SEO.
The point of this is to make a page as relevant as possible, both for the consumer and search engines. This way, each page gets a strong focus that makes it easier for search engines to understand its content, so that the site can rank in the search results. It also improves your traffic as consumers' expectations with the landing page are met.
Pro tip: An important thing to remember during optimization and when creating content, is not to oversaturate your pages with keywords just to rank in the search results. It must be readable and engaging, adapted for both people and search engines.
Att kartlägga sökord hjälper till att komma på vilken typ av content du bör skapa. Du vill förstås skapa det bästa content inom din bransch, så att sökmotorer ser värdet i ditt innehåll och belönar det med bättre rankning. 
Go through your site and check what is needed to be optimized first. You can do this by:
– Prioritize keywords and phrases with high search volume.
– Prioritize keywords and phrases that you are already close to ranking for.
Pro tip: Think quality before quantity. 
Analyze your current content
When you start brainstorming new content for your website, do a quick web search and review the results on the first page. Then ask questions such as
What type of content does this keyword rank for? Are they blogs, or landing pages? etc. Are there detailed guides or list items?

How many words does the text contain? 500 or 2000?

Who is ranking? Are they competitors or other websites?
This information can serve as a guide for your own content creation. 
If you notice that certain keywords seem to be more popular for specific types of content, you should follow that example, as it gets high traffic.
The next step is to analyze your results on an ongoing basis to see how your efforts are performing and thus how you can optimize and improve further.
Pro tip
: When you start your web optimization and start analyzing the content you already have, do not only create new content. Look at what you already have, reuse, and improve your current content. You do not want to create new, high-quality content and still keep the content that isn't as good as it is.
Do you need help with your keyword research? Contact us and book a free audit today – we will help you with search engine optimization and boost quality traffic to your website.
Sign up for a free marketing audit!