What is Inbound Marketing?
Inbound marketing is a broad concept that is usually compared to content marketing as its best friend and outbound marketing as its enemy. The concept of Inbound marketing is fairly new and more often there is confusion amongst businesses if the marketing activities they are investing in is driving the results that they have heard inbound marketing can produce.  
In this blog post, we will explain precisely what inbound marketing is and what it isn't – how it came about, how it works, how it differs from similar concepts, and if it can be a strategy suitable for you and your company.
What is Inbound Marketing?
The term inbound marketing was popularized by the company Hubspot in 2006. Back then, it was seen as a method to streamline the generation of leads in an increasingly digital world.
In the past, traditional marketing has consisted of different ways of bombarding potential customers with different messages, whether that took form through massive sale signs outside of a store or disruptive and annoying pop-ups on a website. In different times, salespeople were potential customers' primary source of information about a company's services and products.
But with the advancement of digital technology, the customer's buying process now looks completely different on the internet: customers, both in B2C and B2B, pull a heavier part of the load themselves and can do their own research on possible purchases. This development signals that companies need to adapt to customers' new and more independent purchase process in order to meet their demands and at the same time drive traffic to their website.

So, what exactly is inbound marketing? In short, inbound marketing is a strategy where you meet potential customers where they already are. It is a growth strategy where, through the use of content, you attract visitors to your website and attempt your best to solve their problems while attempting to turn visitors into customers.
Inbound: To follow and earn your customers
According to an inbound marketing strategy, the content you create should be straight in line with your ideal buyer persona and their perceived goals, interests and challenges. A clear buyer persona provides the ability to create personalized content that appeals to the visitors you wish to attract. However, it is difficult to summarize an entire customer base into one profile, and therefore you can also have two to three buyer personas.

Your customer profile, also called a buyer persona, is a semi-fictional description of who the company's ideal customers are. It should be produced partly through existing data but also through qualified guesses. Here, you paint a picture of the customer's demographic characteristics and answer questions about which interests they have, challenges they face or problems they seek to solve.
By focusing on identifying and solving the problems of your buyer persona, you will be one step closer to the possibility of creating long-term relationships with them.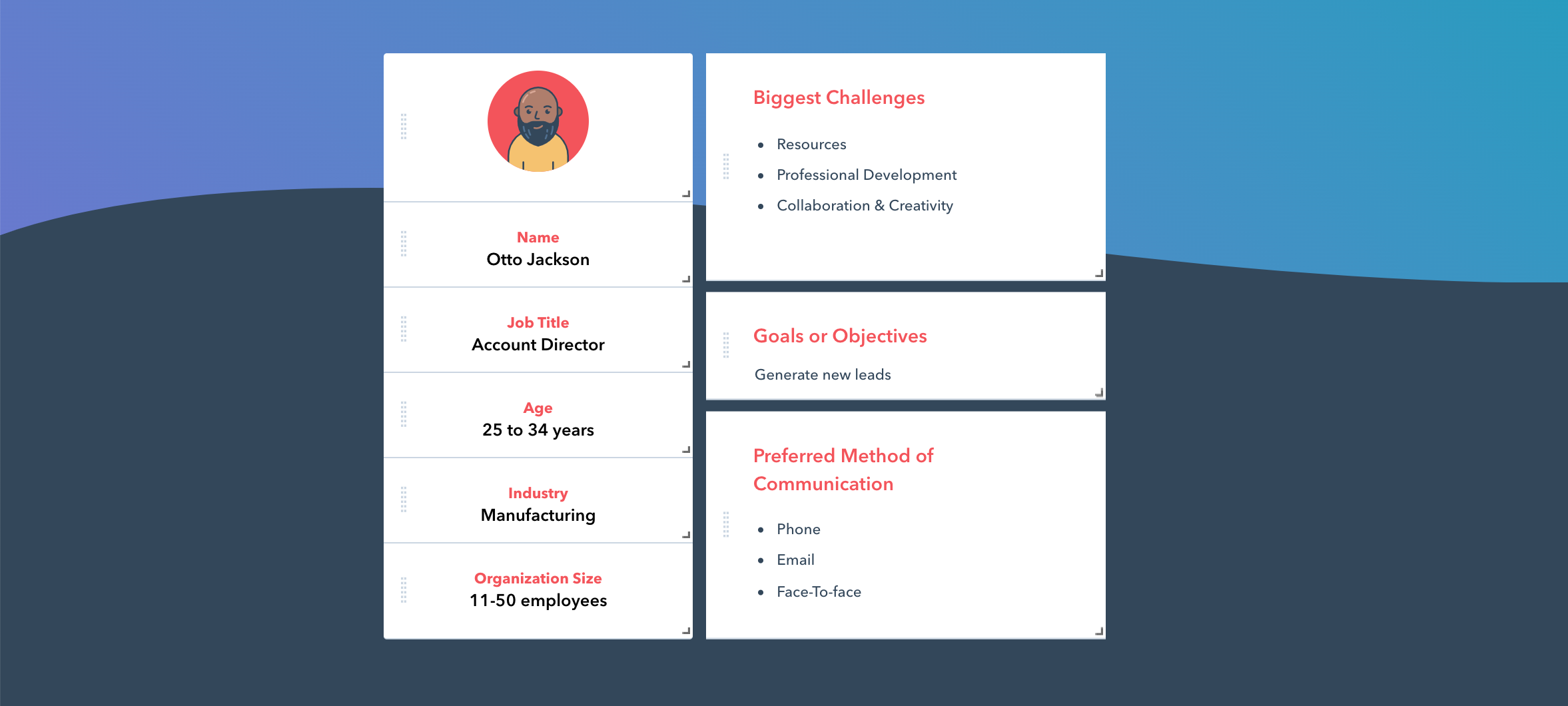 To reach these potential customers, it is crucial to meet them where they are already: for example, Think With Google observed that 49% of customers surveyed use Google to discover new products or products.
Here, your existing SEO strategy can be influenced by an inbound mindset, by identifying keywords and content that your buyer persona is looking for, and producing content based on these. By following your customers through their natural buying process, you have the opportunity to add value at every step, in your goal of turning new visitors to curious leads and finally into paying customers.
Inbound Marketing Vs. Outbound Marketing
In contrast to inbound marketing, traditional marketing, such as outdoor advertising or TV ads, can also be referred to as outbound marketing.. These sales techniques are familiar to many and have a direct nature where companies throw out their messages on a larger scale with the hope of reaching a wider audience. This is sometimes called a "push" strategy, created to distract the recipient and capture their attention.
Let's be honest: no one appreciates getting multiple calls a week from different telemarketers. The average person is exposed to 10,000 ads in one day , and individuals are experiencing a greater level of advertising fatigue than ever before – in 2020, 6 out of 10 felt negatively towards advertising. In contrast to this disruptive approach, however, inbound marketing is a so-called "pull"strategy where you do the opposite and instead let the customer come to you.
You, currently reading this blog post, have, for example, landed on this page because you want to learn more about inbound marketing. To make you happy, we offer you this information for free, with the hope of convincing you of the positive possibilities of inbound marketing and demonstrating how we can help you and your company realize these possibilities. You receive the information you are looking for and we get a greater opportunity for a new relationship: win-win.
When comparing differences between inbound and outbound marketing, there is one specific factor that is important to mention: commitment. Inbound marketing delivers a higher level of engagement, and thus generates more leads, since one of the cornerstones is delivering the right content to the right person at the right time. Consumers are more receptive and engaged towards information they seek out themselves, rather than information made available through disruptive methods such as pop-up ads.
Properly executed Inbound Marketing tactics are 10 times more effective for lead conversion compared to outbound methods.
How does Inbound Marketing work?
As established, inbound marketing is a long-term mindset where we put the customer in focus. But what does an inbound strategy mean in practice? Inbound marketing uses a number of existing principles and tools in digital marketing based on a customer focus. With the goal of transforming a stranger into a brand ambassador, the inbound methodology is divided into four steps: attract, convert, close, and delight.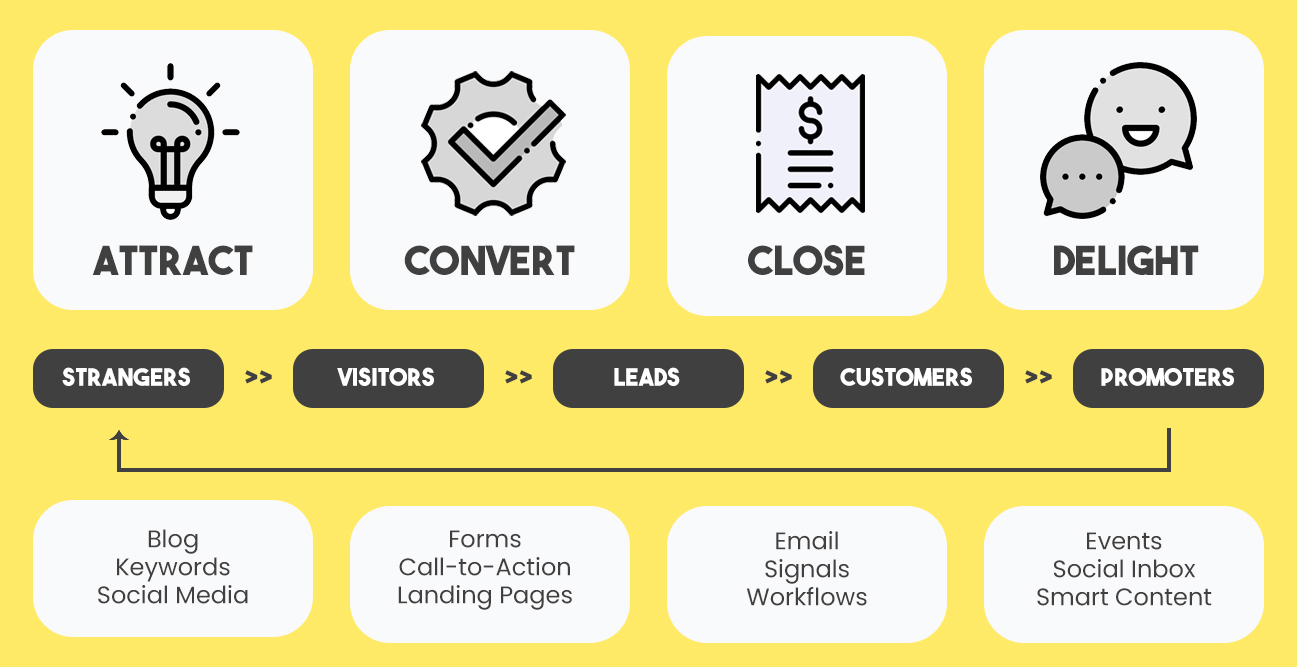 1. Attract
In the first step, you want to draw attention to potential customers about your business by offering them something of interest. Here you want, on your website, to offer content that is customized by keywords your target audience is looking for, which solves any problem for these and opens the door to creating a relationship. Such content can come in many different forms: blogs, videos, pillar pages, whitepapers, e-books, infographics, newsletters, podcasts, emails, webinars, etc. Below we go through how blogging can be used as an example.
To attract readers, we can use blogging, where we capture the reader's attention with educational content. We first want to identify keywords and key phrases that are most likely to be used by our buyer persona, and identify issues that these may generate. Based on these keywords and key phrases, we create content, in the form of blogs, where we answer relevant questions and attract visitors who are looking for answers. This strategy works even better when we do it on a larger scale and create a content library with several so-called topic clusters. To take the customer to the next step in the buying process, we can strategically market our service or product in the blog post: "Do you want to know more about…?".
2. Convert
The next step focuses on converting these visitors into leads. For example, you can work on converting visitors to leads by creating a landing page for an offer that encourages the visitor to provide some type of information and takes you one step closer to a relationship. This information can be obtained by offering premium content, such as a PDF guide or free consultation, in return for any type of contact route (e.g. email address) to the visitor. Below we take a closer look at an example of how landing pages can help with conversion.
Once we have managed to
attract
a visitor to a landing page, the next task is to
convert
the visitor and create a lead. A
landing
page is a page that is specifically tailored to attract the customer into the next step in the buying process and should include:
Visual elements

A value proposition

A description of the offer

A call-to-action link that refers to the offer

A form that provides access to the offer in exchange for customer information
Once the visitor arrives at the landing page, the visitor decides to download our extended PDF guide on the subject. To be able to do this, the visitor leaves their email address. We have now generated a lead and we have a contact path to our lead that we can work with in the next step.
3. Close
In the third step, you are looking to convert these leads into customers , also called lead nurturing. Now that a contact path has been established, you can place it in your CRM system and focus on nurturing the relationship through email marketing and automated processes. Depending on what stage the potential customer is in their buying process, or how 'hot' your lead is, you can hold any sales talks here to guide the potential customer further in the buying process. Below we go through how to work with lead nurturing via marketing automation as an example.
One way to work with lead nurturing is through
email marketing
and
marketing automation
. Marketing automation is a collective term for technology that automates repetitive tasks, such as creating automated email flows that send relevant content to identified leads. In this way, we can contact our leads with, for example, helpful tips, offers to test our product or service, or encouragement to buy.
4. Joy
The battle does not end when someone has become a customer – the ultimate goal is to turn them into ambassadors. By offering exceptional customer service , opportunity for feedback and continued relevant content, there is a greater chance that the customer will become a brand ambassador. Below we go through a customer survey as an example.
Through a combination of our inbound strategy and the use of these different tools, we have now generated a satisfied customer and followed the customer in the stage from stranger to visitor to lead and then customer. Ideally, we complete this buying process by transforming the customer into one ambassador for our brand. This can be done by nurturing the relationship in different ways. This time we choose to try to find out exactly what the customer wants from us by doing the easiest thing – ask! We create feedback surveys that are sent out to customers to find out what we can do to please them even more and possibly turn them into brand ambassadors who recommend our products or services to others.
Why should you implement Inbound Marketing for your company?
Now that we have explained how inbound marketing works, we will dive a bit deeper into the pros and cons of this particular strategy.
Benefits
Reduced expenses
Mass marketing, where you choose a message, throw it out into the world and hope to generate a response is not only risky but can also be very expensive. With an approach that focuses more on who you want to reach out to instead of trying to reach all people, inbound marketing gives you a window for reduced expenses.
Of course, no strategy exists without costs at all, but it is important to note that a strategy that only used paid ads can be very capital intensive. You can buy Google ads under certain keywords that can certainly generate a lot of traffic, but they will only continue to generate traffic as long as you keep pumping out money. Inbound marketing is an alternative, or complement, to this where you spend more resources on creating content that then generates traffic during a long-term period.
From a financial perspective, it also costs more to attract new customers than to retain existing customers. The inbound strategy focuses on maintaining these relationships and continuously puts the customer at the center, even after a purchase.
Generates organic leads
Inbound marketing is about getting the right visitors, not necessarily more visitors. Through an inbound strategy, you can generate up to three times more leads than through traditional strategies.
Your communication is more specifically focused and is not as intrusive as, for example, outbound marketing. With a more focused approach, you are more likely to generate leads that are interested in your offers and thus more open to taking the next step in the buying process. An organic lead is elusive and much more warmer than a cold lead: the customer has chosen you from several competitors and chosen to be on your website.
Creates higher confidence
By providing your visitors with informative and educational content, you build credibility and trust for your brand and position yourself as an authority figure in your field. In line with content marketing, which is a big part of inbound marketing, helpful and relevant content is important to place your business as a "thought-leader" and the go-to source for information in your area.
Imagine for a second you wanted more information about a service. Would you place a large amount of trust in a random salesperson calling you and asking you about the low prices they can offer you?
Or would you have more confidence in a company that you've come in contact with before, whose blog posts you have come across several times, whose website is linked to by other companies, and whose informative and educational videos have high rankings on youtube for instance?
Cons
Long-term strategy
Inbound marketing is not a "quick fix" – it is a long-term strategy. Even if you are in a niche industry, it takes time for search engines to index, list and rank your content.
You also need to continuously optimize your website and your content to ensure that you are running a constantly well-oiled machine. However, when visitors start rolling in, there is a good chance that they will continue to come, if you continuously work strategically with your content.
High competition
Just as your customer profile may be looking to solve a problem they have and thus find your website, they may also stumble upon a competitors website instead. Therefore, the work of search engine optimization is also crucial to be able to compete – if no one succeeds in finding your website, your inbound strategy will not be successful. 
It is also important to stay informed and updated about new trends and constantly aim to reach a place where you can offer cutting-edge expertise to your customers.
Hire an Inbound agency or work internally?
In recent years, there have been major discussions about digital marketing and whether it is more appropriate to hire an agency with existing expertise in an area or develop such expertise internally. ('in-house') and perform the work yourself. When it comes to inbound marketing, there are benefits to both of these approaches.
Benefits of working internally with inbound marketing
It is easier to plan and modify the work internally while it takes place

Fewer intermediaries between you and the creator of the content
The company develops subject knowledge and expertise that can be used long-term
Benefits of hiring an inbound marketing agency
Inbound requires knowledge in many different areas (content, SEO, design, strategy, etc.) – agencies usually provide access to staff with existing skills

It is more cost-effective to hire an agency for a specific purpose than to hire several people and pay full-time salaries to them.
Agencies have experience with similar tasks, and can also keep track of new trends and can more easily implement these for your company
In the end, the choice between an inbound agency or working in-house is a choice you have to make based on your own circumstances. You also need to keep in mind that there may be difficulties in specific industries: do you need to possess a certain skill or knowledge to write a copy about a business that is active in, for example, the pharmaceutical industry, then you may need to hire someone who can write internally, or ask the hired agency to hire an external party.
The most common way, however, usually ends with hiring an agency that already possesses the skills and expertise needed to achieve high results. If you choose to go the internal route instead, you should make sure that you have available resources and expect that the process may take longer.
This is how we help you with Inbound Marketing
Inbound marketing is close to our heart at Markenture and we have experience in creating customized inbound strategies that make your business grow. By performing a comprehensive analysis of your current marketing, we can more easily identify holes that need to be closed.
We help you ensure that your company:
Gets found online

Gets valuable traffic
Generates qualified leads
Increases sales
Increases in brand value
Increases ROI
We do not believe in 'one size fits all' solutions, but work closely with you to design a custom inbound strategy for your company.
If you think inbound marketing is something for you and your company, apply for a free marketing audit with us and we will help you create an inbound marketing growth strategy and action plan. And best of all, ff you choose to not work us afterwards, your audit is yours to keep.  
Get Your Free Marketing Audit!